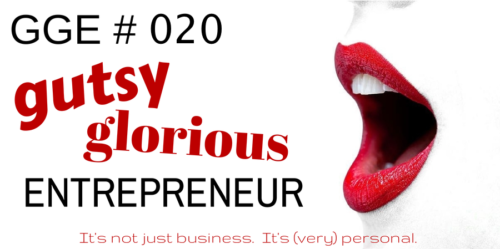 "If you're not excited to get up and do the work then you're probably not doing the right work." ~ Rebecca Tracey 
Rebecca Tracey wants you to have a threesome with clarity, confidence, and action. Actually, that would make it a foursome but who's counting? Rebecca's concern is that you get up off your ass and just do something that will move you forward. She started TheUncagedLife.com while on a road trip.  Back then she worked one day a week and traveled the rest. She tells us why having a location independent career was her top priority.
Also in this episode we talk about:  
Why you must have a coach when you're in business;
Rock climbing (hey! it's good for business);
What waitressing taught her about being an entrepreneur;
Why play is so important when you're working.
Show Notes and Resources:
About Rebecca Tracey
Please consider leaving an honest review on iTunes or Stitcher. It really helps raise the profile of Gutsy Glorious Entrepreneur, so thank you in advance for doing that. And feel free to share this link: www.gutsygloriousentrepreneur.com
Note: To leave a review, just open up iTunes, search for Gutsy Glorious Entrepreneur (or click that link). Presto! It's that easy. You'll also find previous interviews with Jenn Louden, Susan Hyatt, Dr. Harriet Lerner, Sue Ann Gleason, Tonya Leigh, Andrea Owen, Jeannette Maw, Jill Stanton and so many other amazing and successful women, all of whom are so generous with their successes… and failures.
Got an idea for a show? We're always looking for gutsy women entrepreneurs who are willing to share their glorious biz stories. Drop us a line at info@LinEleoff.com
Podcast: Play in new window | Download | Embed