Something happens once we turn 40.  (Or maybe it's 38… or 46. Who's counting?)
It's practically invisible at first: An extra pound here. A tiny wrinkle there. Another gray hair…
It's not the extra pound that's the problem; or the wrinkle, or the gray hair. It's something else, and it's a bugger.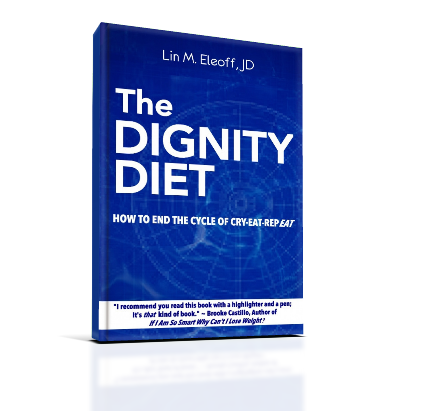 Knock knock. 
Who's there? 
Self Doubt. 
GO AWAY!
Self Doubt robs us of our Dignity. And, without Dignity, we are — to put it bluntly — s-c-r-e-w-e-d. 
I oughtta know. I've been there. Gained the pound(s), spotted the wrinkle, plucked the gray hair. I got angry. I got sad. I got frustrated. I had my moment in what I lovingly call The Land of WTF. When I look back, as crazy as it sounds, I somehow believed that I was going to be the one person in all of humankind who would not grow old. The Land of WTF has a way of messing with our minds, doesn't it? Eventually, I got a clue.
And so began my journey of Self discovery. (Don't laugh: I caught the cliché. Thought about changing it. There's no better way to say it.)
My book, The Dignity Diet: How to End the Cycle of Cry-Eat-Repeat, is about growing up, stepping up, and living up to your greatest potential as an adult woman.
I believe it's what we do with our lives after 40 that really counts. Yes, it's hard. Yes, you're confused. But it's just too easy to give up and wave the white flag. It's also undignified.
Each of us is born with Dignity. We all lose it–it's part of the "Universal Plan." Our job, as mere mortals, is to reclaim our Dignity before we die. No matter what it takes, no matter how long it takes, no matter how hard we think it is, our one true purpose is to get our Dignity back.
With Dignity your spirit is filled with grace. Everything falls into place. And your body naturally finds its way to a healthy weight. That's because we've ditched the White Knuckle Diet, perhaps the most ungraceful, undignified way we could ever treat ourselves.
Here's what one reader had to say in a review straight from Amazon:
I love this book. Lin Eleoff wields a magical combination of truth and sass that leaves one reeling from insight while chuckling. If you have troublesome self-talk around food and dieting (or any other aspect of your life), this book can wake you up to the tricks your mind plays and the crazy excuses that are passed around our culture. She shows us how identifying and then refining our own thoughts and beliefs is the key to understanding and then improving our behaviors. Whether you read through the book once quickly, or work through the thought exercises methodically, this book has the power to change your life in all the ways you've been wanting to change, but haven't quite managed.".
Get your free chapter of The Dignity Diet HERE.