It's not always easy to catch the mean things we say to our Self.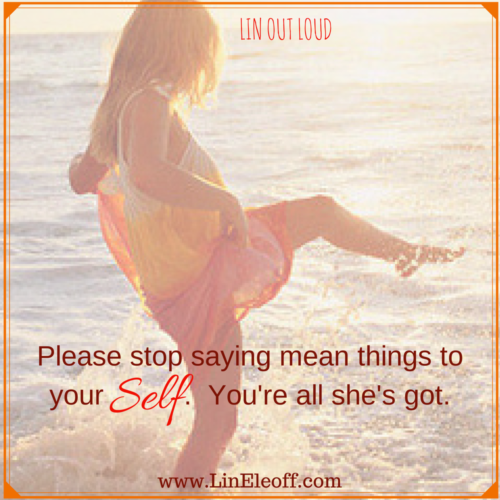 Things like:
"What if they don't like you?"
"You shouldn't eat that."
"Stop doing that!"
"I can't believe you just said that."
"Here, put this on and maybe no one will notice."
"You don't deserve to have this."
These (only slightly) veiled admonishments don't seem to be as obvious as:
"You're an idiot."
"You're so fat."
"You can't compete with that."
"What's wrong with you?"
"You're disgusting."
"I hate you."
"That was really stupid!"
Imagine looking into the eyes of your Self as a child and saying those things. Could you? Would you still? After all, what does it accomplish? Does it make you do any better? Think back to when you were a child and what it felt like to be admonished by someone.
Diminished. 
It's no different today, even as an adult. Except perhaps that now we're the ones doing the admonishing. We've learned to diminish our Self in the hurtful ways to which we became accustomed. Then we say we don't care about what other people think of us.
But what about what you think of You? Do you care about that?
Because the one person whose opinion actually matters is you.
Please stop saying mean things to your Self. It keeps her "down." It keeps her playing small. It keeps her thinking like the terrified little girl who felt all alone at times; who didn't realize that the one person she needed most to be on her side was her Self. Instead, she learned to put her down, like the way "They" did.
Those days are over, girlfriend. You are a fully grown woman whose responsibility is to take care of you. Not just for your sake, but for that of everyone around you that you love so deeply.
Take care of your Self and you also take care of the world.

Be there for your Self and the world will open up to you in ways you cannot begin to imagine.
It's time to give your Inner Mean Girl a kick in the 'you-know'! 

Big love!
Lin x+o
PSSSSST: I hereby invite you to get on The A-List. We're a group of women who are re-writing our life script (and it's going to be a blockbuster!) Want in? Because we want you!
Click here to get on the A-List
I'd love to hear what you think about your Inner Mean Girl. Come over to FB and let me know HERE.