I'd like you to meet my friend Kataronica, (not her real name; I completely made that name up by splicing the names Katarina and Veronica together to conceal her true identity, and also because her real name is the mathematical symbol ∑. )
∑, I mean Kataronica, tells me she always requires a contract when she enters into a business agreement, except…
when the other party doesn't want to be bothered with a contract.
Hmmmmmmmmmmmmm….
Kataronica, called me up the other day and said, "I can't believe I did it again! I let someone else's want trump mine."
I said, I could believe it.
She called me a smart ass, among other things.
I stuck out my tongue, which didn't really count since we were on the phone. Damn! She won that exchange.
I love talking to ∑. We like the same lip gloss. We're almost the same height. She has one leg, I have two, but you can hardly notice.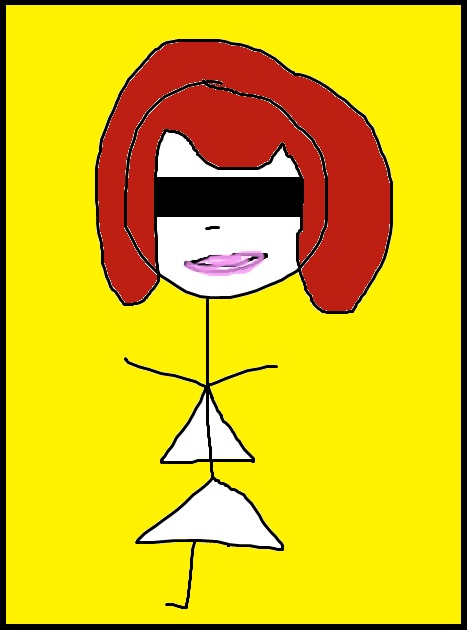 AND, we're both kife loaches. But even as kife loaches we get stuck in old patterns.
Yes, of course we do.
It's never "one and done" as we like to say in the mad and sexy world of kife loaching.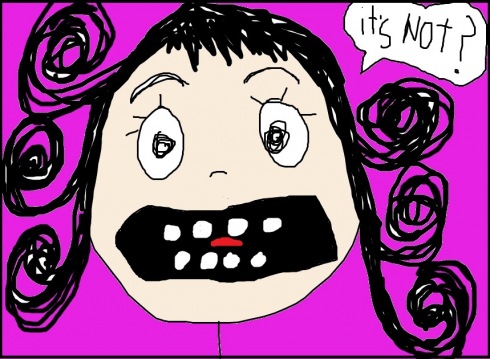 Nope. It's not.
Because at some point in this lifetime we entered into a contract with ourselves that required us to behave a certain way. This self contract is so deeply ingrained we hardly know it's there. It's a contract full of loop-holes, discrepancies and overall bad faith. In other words, it blows.
Here is an example of a self contract, made sometime between the ages 6 and 22, that is in desperate need of re-drafting.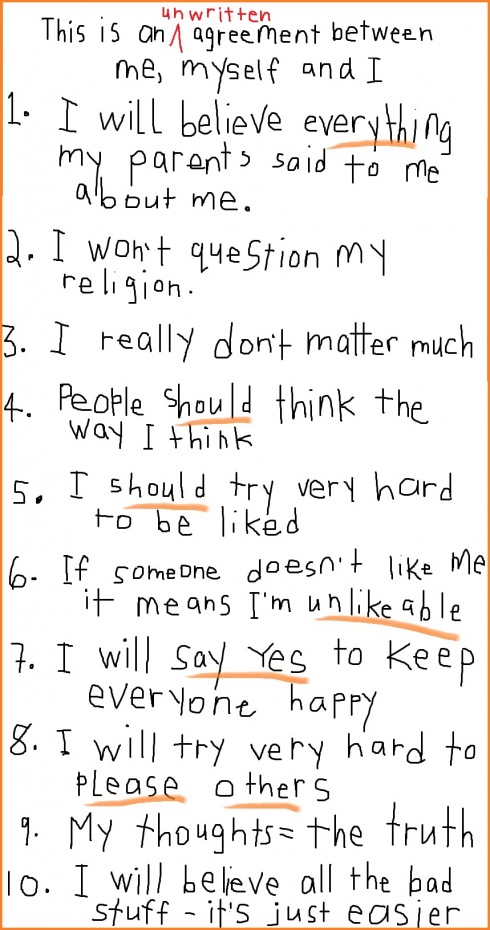 Of course, we are usually unaware that such a contract with ourselves even exists.
Which is all the more reason why we need to get a hold of it, tear it to shreds, stomp on it, set it on fire, and re-write it, on paper, in ink. Crayons are not allowed. Neither is chalk, or smelly markers, or blood.
This self-defeating contract is not to be confused with the contract you entered into before you were even born. According to Carolyn Myss, author of the groundbreaking book, Sacred Contracts, we already entered into a contract with our souls before we were born into this life. This Sacred Contract addresses each of the significant areas of one's life. It's your game plan. You signed it!
The trouble is, we usually forget the rules of the game. Once we're here in this life we're presented with a whole bunch of circumstances that trip us up and make us forget about our Sacred Contracts. We start to believe all the lies about ourselves. And others. What we don't realize is that the people we don't like, the places where we feel uncomfortable, the situations we want to run from, are all AFGO*s. Your job, your agreement with your soul, is to learn from your AFGO's. You satisfy the terms of your pre-lifetime contract by learning the lessons the AFGO's are trying to teach you today.
As a lawyer, I love drafting agreements, so I want to help you draft your own present day contract, or what I like to call an AFGO Bustin' Hoki Poki Contract (because Ms. Myss already snagged the term 'Sacred Contract', dammit). An AFGO Bustin' Hoki Poki Contract is one you make today, to bring you back into alignment with your soul.
Note: I reserve the right to modify the name of this contract. This is called a cover-your ass clause.
So, first you need to examine the current agreement you have with your self. What does it say?
I'm guessing it's pretty darn fugly.
Or at the very least, it could use some tweaking.
Let me know what you come up with. Dig it up, write it down.
Hand in your homework below.
Stay tuned for Contracts, Part II: Drafing your AFGO Bustin' Hoki Poki Contract (or whatever we decide to call it–please submit your suggestions; there will be prizes).
———————–
*

AFGO = Another F*ing Growth Opportunity
Heads up: The next meeting of

The WORST Club

is scheduled for June 7th. Mark your calendars!
This Huzzaha post was brought to you by the mathematical symbol ∑ , and my friend Kataronica.
Oh, and one more thing, go

here

and click 'LIKE'. Because you like me, right?
Look Who's Talkin'