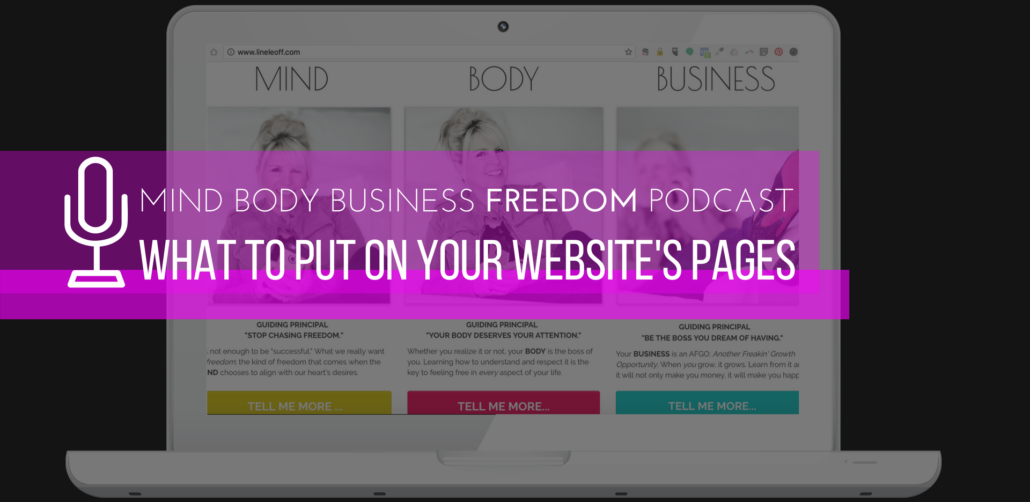 Every single page on your website has a purpose: to work for you.
Your website pages can make or break your
coaching business
. Why? Because the content on your site's pages will either convert visitors into paying customers… or it won't. And if it doesn't… well, you won't have much of a business. That's why it's so important to optimize your website pages so that visitors ultimately become clients.
There are roughly 10 or 11 pages every website should have, depending on whether you have services, or products, or both.
HOME
ABOUT
WORK WITH ME/SERVICES
BLOG
CONTACT
PRODUCTS
TESTIMONIALS
PRIVACY POLICY
DISCLAIMER OF LIABILITY
WEBSITE TERMS AND CONDITIONS OF USE
MEDIA
YOUR WEBSITE'S 5 MOST IMPORTANT PAGES
Today's episode of the Mind Body Business Freedom podcast talks about the first five pages on that list: Home, About, Work With Me, Blog, Contact.
How you set up those pages will be the same for all the other pages so if you get these right you'll have a pretty good handle on how to set up all the others.
When it comes to setting up your website's pages, the key is this: Each page must answer 2 very important questions or that page won't work for you.
Your website pages simply must work for you, i.e., they must deliver a message to your favorite clients that will make them do whatever you ask them to do… whether it's to sign up for a free offer you're making or to buy your services and/or products. This episode explains exactly how to do that.
SHOW NOTES + LINKS
What you need to ask yourself every time you design and write the copy for one of your site's pages;
The (unfortunate) mistake so many coaches make when they "sell" their coaching services online;
---
PS: Please HACO (Help A Coach Out)… it would mean a lot to me to have you SUBSCRIBE ON ITUNES! And leave a comment… short and sweet. It lets iTunes know people are listening and puts wind in my sails to keep creating this podcast for you. Just click this link and then click "view in iTunes" (under my picture) where you'll be able to subscribe and leave me a comment. You can do it! I'm counting on you, Coach. 
Thank you!
Podcast: Play in new window | Download | Embed
Subscribe: Apple Podcasts | Android | RSS