Welcome to my gutsy glorious little tribe on the Internet.
It takes GUTS to be in here.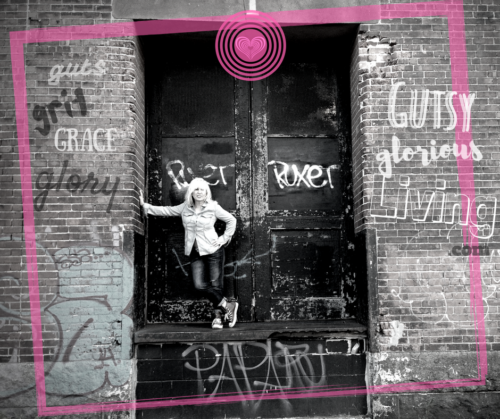 GUTS to try new (big) things.
GRIT to hang in there when those things get hard.
GRACE to get back up when we invariably fall down.
And boatloads of GRATITUDE for every opportunity that the Universe gives us to grow ourselves UP.
It's about time we met.
I've been patiently waiting for the Big U to put us on the same path.
Allow me to introduce myself…
My name is Lin Eleoff and I'm an Internet business lawyer and personal "rock your life" coach. That's the official title but what I really do is show women how to UP their game. It starts with creating what I call a "Gutsy Rulebook" and then living by those rules. 
Why do you need a Gutsy Rulebook?
Because if you don't know what your rules are, you cannot play. And if you can't play, you can't ever win. 
I want you to win!
Yes, I know it sounds like a cliché but you're playing in this "game of life" to win, right?
But do you know how you're going to do that, exactly? And how will you know that you've won?
I'll answer that last one for you:
You'll know you've won because there will be NO REGRETS.
Regret-proofing your life must be your top priority if you want to make it count for something. And by "something" I mean, whatever makes you feel completely and utterly free. 
***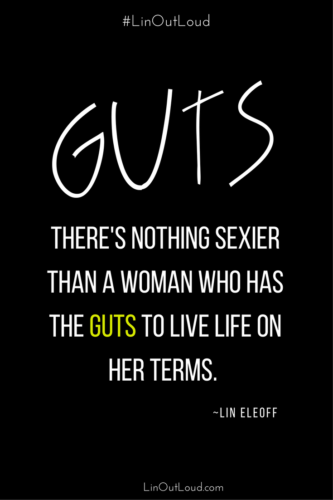 I want to get to know you.
I have a feeling about you and me.
You are looking for some "thing" and you can't seem to figure out where it's hiding.
I know where it's hiding.
That "thing"? You've been searching for it for a long time but you're not even sure what "it" is. You may think it's about starting a new business or fitting into "that dress" or leaving your marriage, but really?
It's about so. much. more.
It's all about The Shift, Girlfriend.
The Shift is a profound and life-altering experience that changes the way you live your life.
If you're asking yourself questions like…
"What now?"
"Where do I go from here?"
"What if this is it?"
"Are my best years behind me?"
"Can I be and do more?"
… then you just may be ready for The Shift.
I say "may be ready" because not everyone is. The Shift can be a scary hot mess of a place where old thought patterns and belief systems get stirred UP. That's because The Shift requires us to step UP, live UP, speak UP, and change it all UP until you find You.
I've found that you always get a heads-up when you have an opportunity to grow UP. The Shift is always preceded by an AFGO, a sweet gift from the Universe that feels like one giant slap upside the head (doesn't sound like much of a gift, does it?). But the gift is on the other side of the AFGO. Without accepting the unsettling "gift of the AFGO" we just keep going on the same old path, doing the same old things, wishing and hoping for more.
An AFGO is Another Freakin' Growth Opportunity, and it's not pleasant, which is why we've said "no thanks" to so many AFGOs in the past. That's where your guts come in. You need guts to grow yourself UP.
So, I ask you: Do you have the guts, Girlfriend? Because it sounds like there's a part of you that's trying to get your attention. Listen UP.
Maybe the AFGO is your marriage, or your bank account, or your mother (still!).
Or the AFGO could be your body, your weight, or the food on your plate. (I actually wrote a book about this; it's called The Dignity Diet: How To End The Cycle Of Cry-Eat-Repeat, available on Amazon).
Or maybe it's a new business you're trying to get off the ground. (I wrote a book about that, too; it's called Gutsy Glorious Life Coach: How To Turn Your Coaching Practice Into A Soulful Money-Making Business, also available on Amazon).
Whatever the AFGO, it's an opportunity for you to shift.
The Shift is a rearranging of every neuron in your brain, every thought in your mind, every belief in your subconscious belief system, and subsequently every word that you speak.
I think The Shift can even re-arrange the bones in your body.
You know that free-falling feeling you get when you're melting into a deep and meaning-full kiss? Has it been a while since you've had that feeling. We all long for more of that.
We deserve more of that.
You deserve more of that.
As women who've done so much with our lives already… given so much, loved so hard, cried even harder… we want to melt into something more. We want to live our lives as if each day were a precious kiss.
Whether you're starting a new coaching business, recalibrating a relationship, or finally starting to honor and take care of the body that's served you for so long, you're going to need support along the way, especially on those days when you feel like your life is one big lemon. But you know what my mantra is?
"When life gives you lemons, squeeze the juice into the eyes of your enemies."
(Ok, that's not really my mantra, but I do have days when I feel that way. Don't you?)
The lemons are the AFGOs, don't you see?
That's why you've got to laugh.
Incidentally, the only thing on my bucket list is to "die laughing."
That's it.
If I die laughing I will know that I made a conscious choice to live life on my terms, following my rules.
Want to work with me? Go HERE.
And join my private Facebook group, where we hang out as a tribe of gutsy glorious girlfriends.
Lin E.