An AFGO is a gift from the Universe.
Unfortunately, it's usually the kind of gift that keeps on re-giving, even when you don't want the damn gift!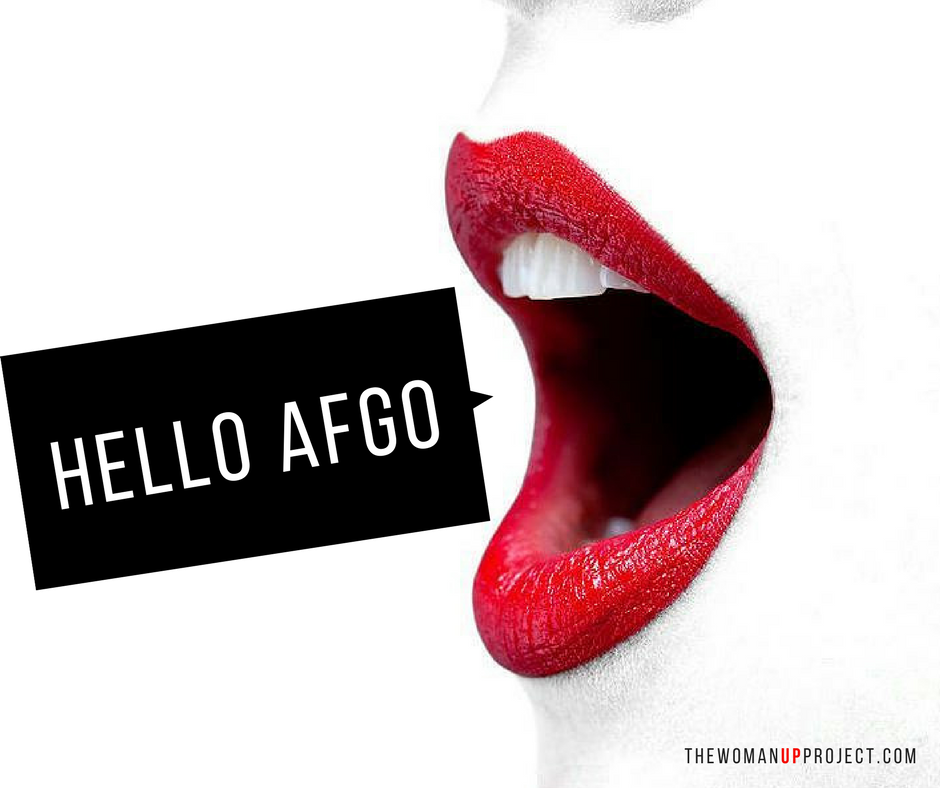 An AFGO is Another Freakin' Growth Opportunity. 
Had one lately?
You'll know an AFGO has you in its grip by the way it makes you feel — like something isn't quite right.
Like you're giving in to something.
Or backing down.
Stifling yourself.
Shrinking.
You know… like you learned how to do when you were little, because that's how your innocent child mind figured out how to protect yourself. It worked. It kept you out of trouble. It made other people happy.
And then it stopped working.
You grew up and grew a mind of your own. That's the good news.
NOW FOR THE REALLY REALLY REALLY GOOD NEWS…
You're not a little girl anymore. You have a voice. You have opinions. You have ways of doing things that others may not agree with.
In other words, the way you choose to live your life today, as an adult woman, may, on occasion, piss someone off. 
In fact, it's practically certain to do that. You can't please all of the people… blah blah blah.
So… there's a good chance that you're going to make them mad just because you're following your heart.
This may cause them to unleash their disapproval.
And worst of all… it could even make some of them leave. 
The threat of anger and disapproval and abandonment scares the bejeezus out of the little girl in us. And, of course, we don't want those things to happen, even as women.
BUT…
(And it's a really big but)… as adult women we now have choices we didn't have when we were girls who were depending on the adults in our lives to take care of us.
We are now able to make CHOICES based on what we VALUE.
What we consider important.
And what we value and consider important may be a whole lot different than what our mother or father or significant other or BFF considers important.
Whoa! We have minds of our own!
Imagine that. (Sarcasm included at no extra charge. Wait… that was sarcasm, too. I can't help it sometime.)
It's the belief that we are still little girls who can't tolerate anger or disapproval or someone leaving that creates the niggly-wiggly feeling in our gut… a feeling that never goes away, no matter how we might try to distract ourselves from it with chocolate or handbags or wine or sex.
That niggly-wiggly feeling is a signal that you have an unfinished AFGO on your hands and the only way to deal with it is to… 
Woman UP.
Ack… no one said it was supposed to be easy (did they?).
You didn't get an invitation from the Universe that looked like this…
HEY, LADY, COME EXPERIENCE A LIFETIME ON EARTH. 
YOU'RE GOING TO LOVE IT!
EVERYONE IS GOING TO LOVE YOU AND EVERYTHING YOU DO.
SIGN UP BELOW AND YOU'RE GUARANTEED
TO HAVE AN EASY GO OF IT. 
As if.
So you see, we have work to do, unless we don't mind the sour taste of regret that is inevitable when we don't follow our heart's desires.
You are not alone, Girlfriend.
This is hard.
Your job, right now, is to figure out how you will honor your Self… the grown-up adult woman part of you that knows what's best under every circumstance.
Whenever you have that niggly-wiggly-oh-my-gawd-I-feel-an-AFGO-coming-on kind of feeling, ask yourself: "Am I willing to throw myself under the bus to make someone else happy?"
And then be very deliberate in answering that question.
There really isn't a wrong answer here. The goal is simply awareness.
Understanding why that feeling is there is a big first step towards accepting the Big U's gift of an AFGO.
With awareness comes clarity.
And then, perhaps, the woman in you will realize how powerful she is today. That she can make choices that weren't available to her when she was younger.
Your voice may begin to emerge, slowly at first, and then with a quiet ferocity that can only happen when we decide that we have no other choice but to finally Woman UP.
In love and guts,
Lin E. x o