Hey Coach… do you have a coaching practice or a coaching business?
There's a BIG difference.
After coach training you have a practice. You do not have a business.
I want to show you how to build a dream coaching business… one that makes you money and makes you happy.
WHAT IT REALLY TAKES TO BUILD A COACHING BUSINESS
There are actually 46 steps to building a coaching business, which I outline in my book, Gutsy Glorious Life Coach: How To Turn Your Life Coaching Practice Into A Soulful Money-Making Business.
I teach this step-by-step process to my clients because it works. Not following these steps would be like opening a storefront without having any inventory inside. People will walk on by (or walk in and walk right back out) and you'll be scratching your head wondering where your clients are.
So, here's what to do:
STEP 2: Sign up for a Velocity Session so we can create a foundational action plan for how to begin building your dream coaching business.  
NICHE NEEDS WORK?
This is THE ONE TARGET coaches most often miss when they're first getting their businesses up and running.
Without a target (niche) market you will struggle… that's a promise. I know this for sure because I see it happen to newly-minted coaches every day (not to mention that IT HAPPENED TO ME!).
The symptoms of not having a clearly-defined niche: 
Low-to-no opt-in sign ups;
Low-to-no client sign ups.
If your list isn't growing and you don't have paying clients, your niche needs work, Coach. You simply have to nail your niche so people can find you.
Let's fix that: Start with my Nail Your Niche Formula. This is an eye-opener, even for the more experienced coach.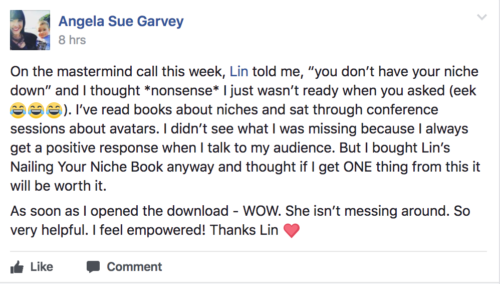 Like I said, eye opening. (Thank you Angela… I'm so happy you're nailing it!)
Ok, Coach, how about we get started on nailing your niche?
STEP 2: Sign up for a Velocity Session … oh the places we'll go!