Hey Coach… do you have a coaching practice or a coaching business?
There's a BIG difference.
After coach training you have a practice. But you do not have a business.
First things first…
You need to know your niche, a.k.a. your target market. Without that you will struggle. (See below.) I know this for sure because I see it happen to newly minted coaches every day.
You need a domain name and a website. 
You need to have a marketing strategy.
And you need an action plan to accomplish all of the above.
There are actually 46 steps to launching a coaching business, which I outline in my book, Gutsy Glorious Life Coach: How To Turn Your Life Coaching Practice Into A Soulful Money-Making Business.
I teach this step-by-step process to my clients because it works. Not following these steps would be like opening a storefront without having any inventory inside. People will walk on by and you'll be scratching your head wondering where your clients are.
So, here's what to do:
STEP 2: Sign up for a Velocity Session: $297 where we'll do business at the speed of badass™. 
Trouble with your niche?
This is THE ONE THING coaches most often miss when they're first getting their businesses up and running.
Show me a coach without an intentional target and I'll show you a coach who's trying to run a business blindfolded.
And if you don't know what I mean by "intentional target" then you probably don't have a clearly defined niche… yet.
Let's fix that: Start with my Nail Your Niche Formula. This is an eye-opener, even for the more experienced coach.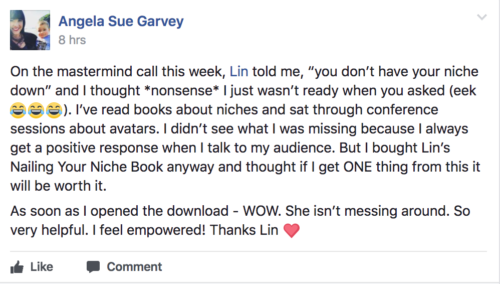 Like I said. Eye opening. (Thank you Angela… I'm so happy you're nailing it!)
Ok, Coach, how about we get started on nailing your niche?
STEP 2: Sign up for a Velocity Session: $297… oh the places we'll go!