THERE ARE ONLY TWO THINGS ON MY "META BUCKET LIST" AND ONE OF THEM IS TO DIE LAUGHING.
The only other thing on that list is to die with no regrets.
That's it. Die laughing. No regrets.
If I can accomplish those two things I think that covers everything I could ever wish for when it comes to living a good life.
How often do you laugh? Chances are it's not even close to how often you laughed when you were a child.
I just read that 4-year-olds laugh about 300 times a day (sounds about right to me although some would say that's urban legend).
40-year-olds? Ugh… only 4?
Maybe that, too, is urban legend, but it sounds about right to me, if not, perhaps (?) an exaggeration.
Still… I do believe those numbers make a fair point that few would argue with: We don't laugh nearly enough once we become "grown ups."
It's enough to make you want to have a good cry laugh.
C'mon. You can do it. Let me see you give those zygomaticus (cheekbone) muscles a workout. And don't stop there… laughter is not just for your face, it's a whole body workout. A good laugh travels down your throat, your nervous system, and throughout the muscles of your entire body.
Ever laugh so hard your toes curl?
I swear I have strong abs because I tend to laugh a lot.
I certainly don't need to give you a lesson in HOW to laugh. This is more about WANTING to laugh.
Do you want to laugh more?
I mean… what are the chances that you'll die laughing? I figure, if I laugh "enough" now, there's a pretty good chance I'll die laughing (which is really just a metaphor for dying happy). 
It may be premature, if not downright morbidly non-laugh-worthy, but I believe that thinking about how we want to die is important; it's puts some pressure on us to figure out how you want to live.
Because, of course, we all want to die without pain, surrounded by the people we love, but…
HOW DO YOU WANT TO LIVE BEFORE YOU DIE?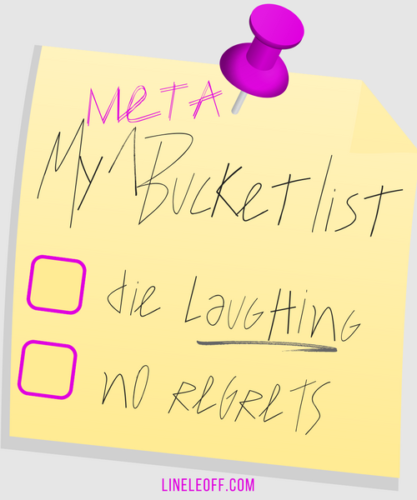 You may have all kinds of things on your bucket list (fun!) but I would encourage you to create a "meta" bucket list that ensures you live a good life — however you may define it. Because, yes, you may be able to check "skydiving" off your bucket list, but will you have lived a good life because of it?
I don't think that's necessarily so.
I think you will live a good life whether you skydive or not, but only if your intention is to live a good life.
I could just as easily put "live a good life" on my meta bucket list and leave it at that, but I want to cover all the bases (be kind-hearted and serve others, love until my heart explodes, love myself until my heart explodes) so my meta bucket list looks like this:
Die laughing
No regrets
What's on your meta bucket list?
How do you want to die?
More importantly, how do you intend to live?
Come share your answers HERE.