Hey Coach! 
It's about time we met.
I know exactly why you're here.
You're a coach (a life coach or health coach, or weight coach, or relationship coach…), you LOVE what you do, and you want to do more of it.
It's just that… well… where do you start? 
Don't worry, I wrote the book on "where to start" when it comes to turning your coaching practice into an online business that not only makes you happy but makes you money.
I literally wrote "the book"! 
Why?
Because it's the first book to answer EVERY SINGLE QUESTION when it comes to starting an online coaching business. It comes with a very detailed 46-point checklist… Yes! 46! Because there's no such thing as "5 Easy Steps To Starting A Coaching Business."
(BTW, you can download the checklist for free, below).
This is the book I wish I'd had when I first started coaching. It would have saved me from months and months of feeling lost, overwhelmed and, at times, utterly defeated.
I had to learn the hard way that coach training is not the same as business training.
Becoming a coach doesn't mean you suddenly become a business woman by osmosis! 
The cold hard truth is this: having a coaching practice is not the same as having a coaching business.
I can teach you how to build a coaching business because I'm not only a coach, I'm an Internet business lawyer and online entrepreneur.
We cover all the steps, (including the legal ones, the smart ones, the easy ones and the not-so-easy-but-necessary ones) that will ensure you do it all "right" so that you not only have a coaching business that runs smoothly, you also ensure that your business and personal assets (think: home, investments) are protected.
I also share my "Extreme Self Coaching" techniques, for those times when you find yourself on the bathroom floor (also known as The Land of WTF), insisting it's all just too hard!
Ready to unleash your Inner Business Woman, Coach? I know she's in there! Get the book now, on Amazon, and let's start building that business.
---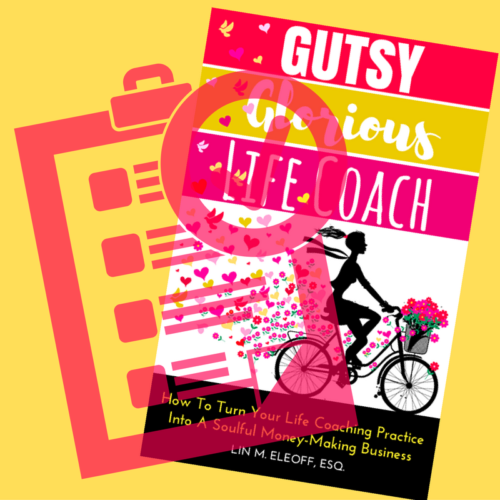 INTRODUCING: THE 46 STEPS
Gutsy Glorious Life Coach contains a 46-step checklist that takes you from ZERO to ONLINE COACHING BUSINESS.
These are ALL the action steps you need to take to build an online business. This detailed checklist includes every step you need to take to get your business up and running… including all the legal steps. After all… I'm a lawyer and a coach.
Download this printer-friendly checklist to help you stay on task so you can get down to the business of coaching your clients. 
To receive the 46 STEP Master Checklist (it's printer friendly, yay!)
enter your name and email below.