Get this: I'm writing a script for "The Life Coach Movie" starring YOU as the Heroine and Self-Doubt as "The Bad Guy."
It's the role of a lifetime… I think you'd be perfect!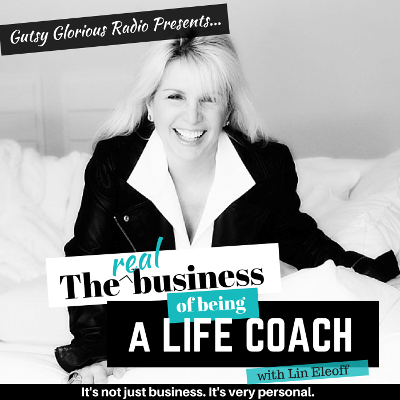 In this episode of Gutsy Glorious Radio we're talking about whether you've got the acting chops to do a big fight scene against your nemesis Self Doubt… you know, like they do in the movies.
(FYI, "The Life Coach Movie" is all about slaying Self-Doubt and marketing yourself like a boss.)
With Self-Doubt out of the way, you can get to the tactical stuff–the sales and marketing stuff we'll be doing in the sequel, The Life Coach Movie Part Deux. 
And, FYI, there's no point in rolling your eyes and dragging your feet when it comes to the M-word and the S-word.
C'mon Coaches, we're getting ready to do business at the speed of badass, so there's no time for eye-rolling or distracting yourself with, "But I don't wanna…"
Besides, if you want to be in The Life Coach Movie, you've got to be willing to really get into character–strong, resilient, determined, not easily foiled. (I'm hoping Spielberg will direct. Hang on a sec… I think that's Steven, on the line).
You vs. Self-Doubt
Here's how to know you're right for the part: You LOVE being a coach… It's just that you really don't like having to do all the tactical stuff–and the techy stuff–and the non-coach-y stuff, at least that's what Self-Doubt is always telling you. If that sounds like you, SPIELBERG'S GOING TO LOVE YOU. Just wait to see how he develops your character!
Are you ready to step into your dual role as Life Coach AND Business Woman? Just to warn you, there will be chase scenes and a climactic fight to the finish.
I'm getting the popcorn ready.
Seriously Coach… I've got your back. We've got some business to take care of together.
Listen up! And get ready to slay Self-Doubt so you can finally start marketing yourself.
You're going to be a star!
Podcast: Play in new window | Download | Embed
Subscribe: Apple Podcasts | Android | RSS