GUTSY RULE #1: Woman UP
You are a grown up gutsyass adult woman. Own it. Woman UP!
Stopping allowing your inner-6-year-old to run your adult life.
Get back in the driver's seat.
Take responsibility for creating the life you crave.
GOT GUTS, GIRLFRIEND?
Because that's what it takes to be a LEGIT, CARD-CARRYING, GUTSY-ASS WOMAN, the kind who not only makes up her own rules, she's also got the guts to live by them.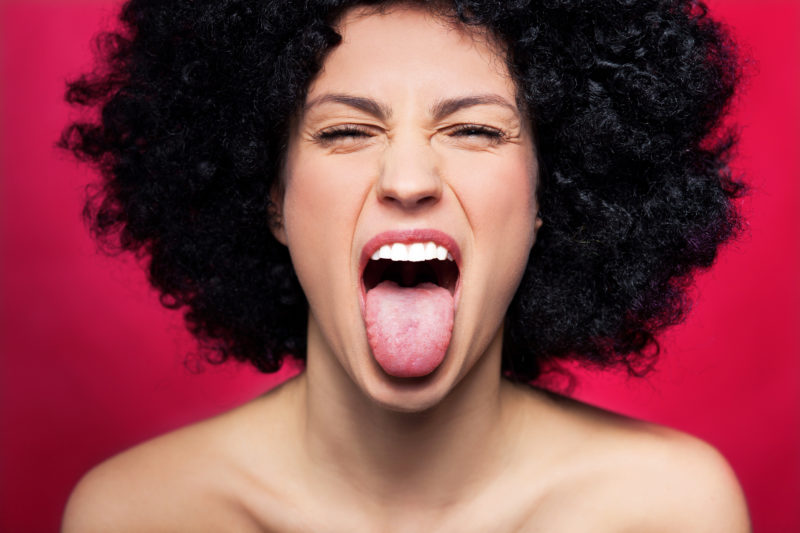 The kind that does more doing than talking. The kind that's tired of her own excuses. The kind that's determined to regret-proof her life. The kind that is prepared to woman UP in order to get what she wants and needs so that she can live life on her terms.
Besides…
TALK IS CHEAP.
EXCUSES ARE BORING.
AND REGRET LEAVES A VERY BAD TASTE IN YOUR MOUTH.
WELCOME TO "THE WOMAN UP PROJECT"

We do "woman" the way it's supposed to be done: with guts, grit, and grace.
Whenever my clients say they want something (I want to start my own business; I want to lose weight), but they're afraid it might not work, or they'll make a fool of themselves, or people will think they're crazy, I always ask them this question:
Which one of the following doors are you going to consciously choose to open?
DOOR #1: Following your heart's desire and potentially feeling some "pain" along the way, with no guarantee of the outcome, but knowing (and feeling proud) that you gave it your absolute best shot, or…
DOOR #2: Playing it safe, avoiding potential embarrassment or criticism, but then having to deal with the inevitable REGRET and RESENTMENT.
Sadly, most women choose Door #2. Unconsciously, of course. We all do it. We've all experienced that pit-in-the-stomach feeling that comes when we start thinking about everything that could go wrong.
But what if it doesn't work? (What if it does? What if it doesn't? What matters is that you gave it your best shot.)
People will judge me. (And that's somehow not worth living your life on your terms? So we can keep those people from judging us? Why do they matter more than you?)
I'll look like an idiot. (According to whom? And, so what if you do? You're a woman. You can handle this. Trust me. Even if it stings to be criticized, you can handle it.)
No seriously, I might make a fool of myself! (So……………. what? That's so much better than feeling regret later. I promise.)
On the one hand we might experience an uncomfortable FEELING (disappointment, embarrassment, failure) on our way to experiencing a potentially huge reward; on the other hand we have the inevitable REGRET and RESENTMENT staring us in the face, daring us to break the old habits that keep us stuck.
Which one is worse?
a) Feeling uncomfortable if someone doesn't approve? Or, maybe disappointed or embarrassed if it doesn't work? (And, who knows, maybe it will work!) Or…
b) Knowing that you avoided those feelings, somehow believing you couldn't handle them, only to experience deep regret and resentment later. (Ugh! The mere thought of this one kills me, I tell you!)
Which one gives you the opportunity for greatness?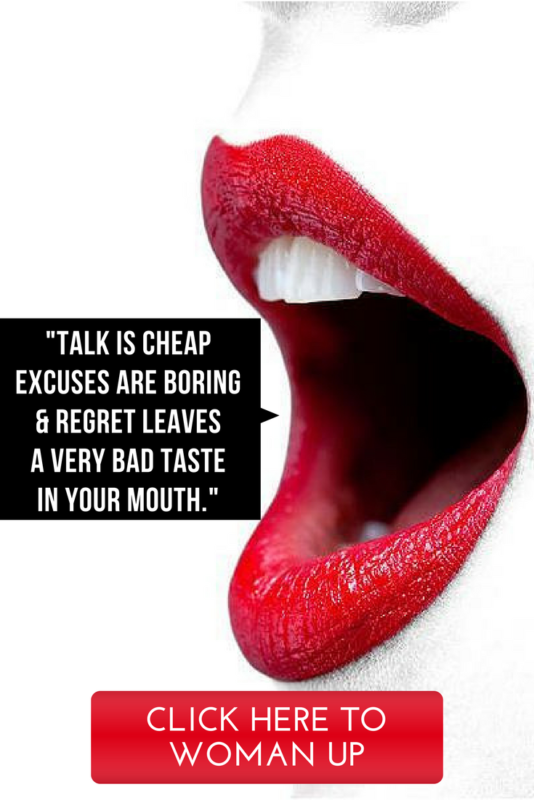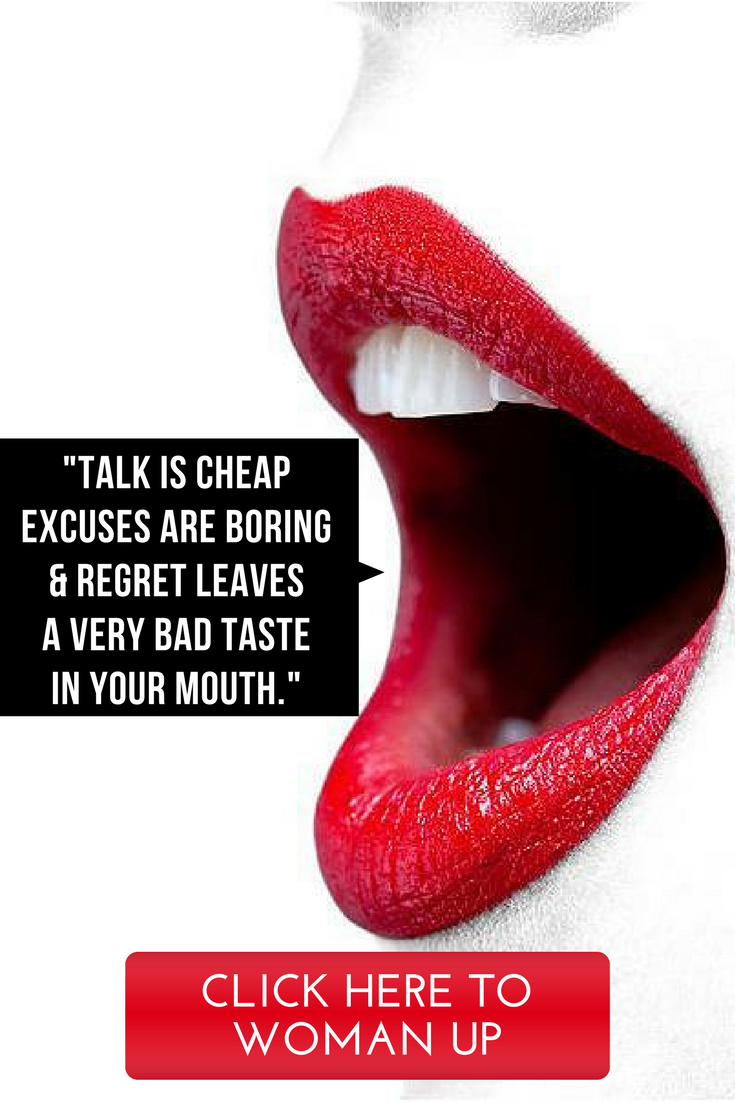 What would a gutsyass, wholehearted woman do?
You see, we stop short of asking ourselves the one BIG important question, the question that makes us accountable to our deepest desires and delicious dreams.
We're afraid to ask ourselves:
WHAT IS THE COST TO ME OF NOT DOING IT?
What is the cost if I don't Woman UP?
Here's my personal answer: I would live with a dull ache of emptiness that would never go away, no matter how much money I have, no matter how beautiful my house is, no matter how many designer handbags I have, and no matter how utterly amazing my husband and kids are. 
GOING UNCONSCIOUS
In order to live with ourselves for having made the choice to turn our backs on ourselves, we have to go unconscious, or go nuts. Since we don't want to feel like we're going nuts, we make shiitakes up in our mind.
We create stories that sound so lovely and pretty.
We tell ourselves we have a good life, we shouldn't complain, we don't need more.
We count our blessings, we don't tempt the gods, and we surely don't dare to expect more.
Lies, all lies. (But, I agree, they do sound so darn convincing, don't they?)
We tell ourselves stories that allow us to avoid stepping UP and facing our Self in the mirror and telling her the real truth: "Sorry honey, I just couldn't come through for you. You just weren't worth fighting for."
Ugh. That cuts deep.
NOW, HERE'S THE GOOD NEWS: Awareness (consciousness) is all it takes to Woman the f(bleep)k UP.
When we become aware of our WOMAN-ness, we…
Start to feel a spark.
An inkling.
A "What if…?" 
And then we think,
"Why not?" 
And then…
"Hell no… I ain't livin' with no bad taste in my mouth!"
(Oh, I should mention that when you Woman UP, you really do get to say and do whatever you want, including allowing yourself the occasional bout of bad grammar… like I just did up there.)
Just in case it's not clear, here is the real cost (at the level of your soul) of not doing whatever it takes to…
Write the blog… or the book;
Lose the weight;
Kick the addiction;
Start the business;
Put up a website;
Expect more from your marriage;
Connect with the people you love;
Get out of debt;
Go for the dream!
The cost is this: You die a little, when you're supposed to be living.
How many buckets of REGRET are you willing to die with in order to not live your dream life because of what you might have to go through to attain it?
Go ahead, ask yourself that question. (It's ok, I'll wait with you for the answer to come.)
Can you live with that answer?
C'mon, Girlfriend.
Woman UP.
READ GUTSY NEW RULE #2 HERE.