YOU'VE GOT QUESTIONS. I'VE GOT ANSWERS.
Need to get in touch? There are several ways to do that.
First of all, there's Facebook. If you're an entrepreneur, join my private Facebook group HERE. 
Or if you have questions regarding how we can work together, shoot me an email.  
By the way, have you read my book, "Gutsy Glorious Life Coach: How To Turn Your Life Coaching Practice Into A Soulful Money-Making Business"? It's an Amazon bestseller and it's the book I wish I'd had when I first started my online business. It's packed with step-by-step information on how to build your online business from scratch.
Here are just a few of the reviews…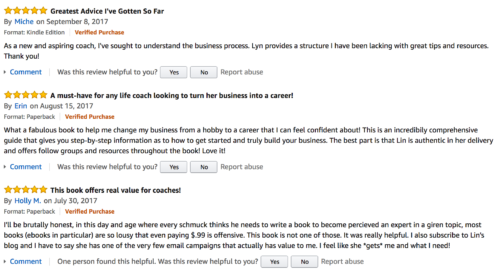 READ MORE REVIEWS HERE.
Or, if you've already read the book (thank you!), I'd so appreciate it if you'd take a moment to leave an honest review. I love hearing from my readers.
If you've already left me a review, my heartfelt thanks… you rock!